Armenian State Jazz Orchestra
The best music family for talent, open minded and progressive musicians!!!
We are always on the move!!!
Armenian state jazz orchestra has a long almost one century history. The orchestra was founded in 1938. Today it is the best in the region with its musicians, playlists, collaborations. The orchestra represents all styles of jazz music and discoverer of new jazz authors and artists. Since 2010 the orchestra's artistic director and conductor is saxophonist, composer, arranger Armen Hyusnunts. The State Jazz Orchestra of Armenia collaborates with the best musicians in the world. For the past 10 years, the orchestra has performed with Dee Dee Brindgwater, Arturo Sandoval, Adam Rapa, Chico Freeman, John Marshal, Jenny Davis, Sharon Clark, Michael Mayo, Ronald Baker, Igor Butman, Mariam Merabova, Arto Tunchboyacian, Tigran Hamasyan and many other. The orchestra has had many concert tours around the world: Russia, Tunisia, Poland, Germany, France, Lebanon, Syria, USA.
Saxophonist, bandleader, composer, arranger, conductor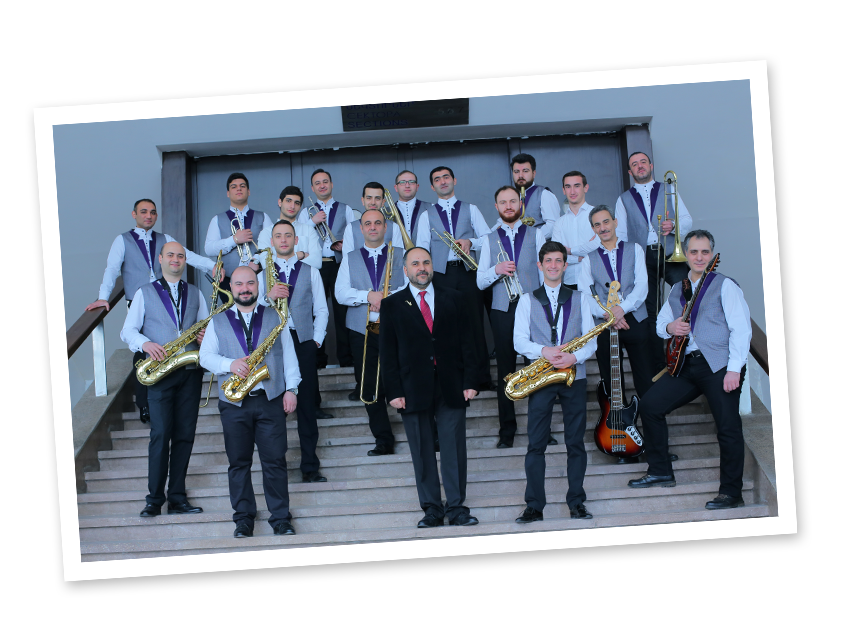 Armen Hyusnunts was born on December 28, 1966.
In 1984 he graduated from the piano and saxophone sections of themusic school named after Sayat-Nova.
In 1984 entered the saxophone department of the Yerevan State Conservatory after Komitas.
1985-1987 During the years of military service, he played in the Military Orchestra of the Honor Guard of Moscow.
In 1987 he started teaching a number of music schools in Yerevan. A year later he received an invitation from Artashes Kartalyan's jazz quartet.
In 1996, in collaboration with pianist and composer Khachik Sahakyan, Armen Hyusnunts created the "Time Report" ethno-jazz band, which produced a number of author's compositions and elaborations of Armenian folk songs, whose recording were included in three albums of the band.
It is difficult to imagine a "Time Report" band without the unique style of Armen Hyusnunts which had profound effect on the further development of Armenian ethno-jazz.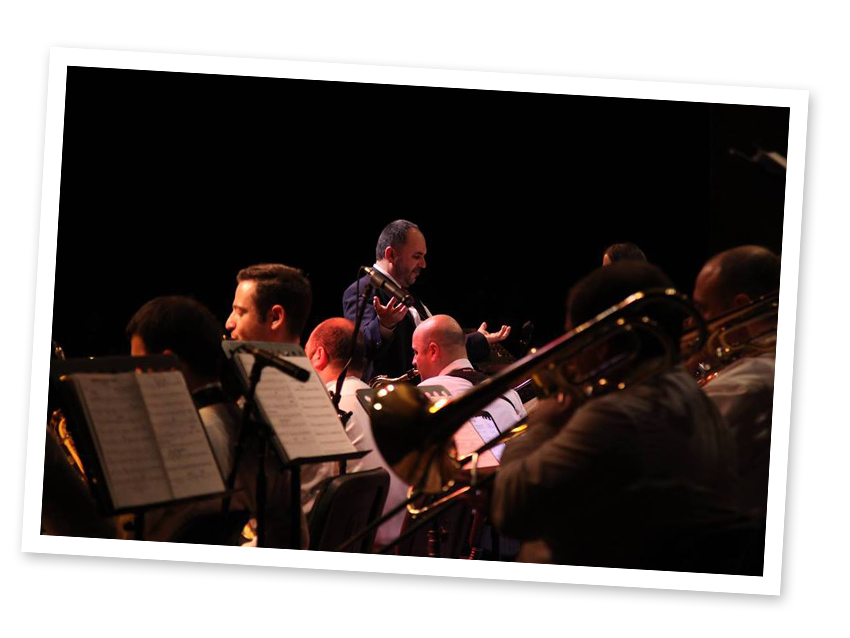 Along with playing jazz, Armen Hyusnunts also regularly performs classical and contemporary music. In 2000 he founded "ArtaSax" Saxophone Quartet, the repertoire of which mainly consists of classical or contemporary music, along with arrangements made by Hyusnunts specially for the saxophone quartet. Hyusnunts made a big contribution in the extension of saxophone quartet's repertoire with his arrangements.
Hyusnunts' pedagogical activity continued in Yerevan State College of Pop and Jazz Art, where he has taught for six years (2000-2006) and at Yerevan State Conservatory from 2004 to 2006. Since 1997, Armen Hyusnunts has been working as the solo-saxophonist and music director of the Armenian State Jazz Orchestra. Armen's talent as a conductor, bandleader, composer and arranger reached its peak when he was appointed artistic director of the Armenian State Jazz Orchestra in 2010. The repertoire of the big band includes a large number of his compositions and arrangements.
 Armen Hyusnunts has participated in numerous international festivals, toured with different groups in USA, Europe, Japan, Middle East аnd played with many famous artists, such as Vardan Ovsepyan, Armen Donelyan, Tigran Hamasyan, Hadriеn Feraud, Joe Zawinul, Richard Bona, Adam Rapa, etc. He has performed at numerous renowned events and tours, such as World Expo 2000 in German, Hannover, Beyt Hedin music festival in Lebanon (July, 2000), Vienna Jazz Festival (August 2001), Netherlands SKIF Festival (October 2001), Japan World Expo, Aichi (June 2005), Syria Jazz Caravan Festival (August, 2008), Dubai Jazz Festival (October 2008), Shanghai World Expo (June, 2010), Morgenland Festival Osnabrück (September 2016) and many other festivals and concerts across Europe and Asia.
In 1998 World-renewed musician Arto Tuncboyaciyan founded the Armenian Navy Band and invited Armen Hyusnunts, who performed with the band at international festivals.
 Along with jazz A.Hyusnunts regularly performs classical and contemporary music.
In 2000 A.Hyusnunts has brought to life the ArtaSax saxophone quartet, whose  repertoire has included mostly classical compositions and transitions, refinements, made for a specific quartet by A. Hyusnunts. He made a big contribution in the extension of saxophone quartet's repertoire with his arrangements.
.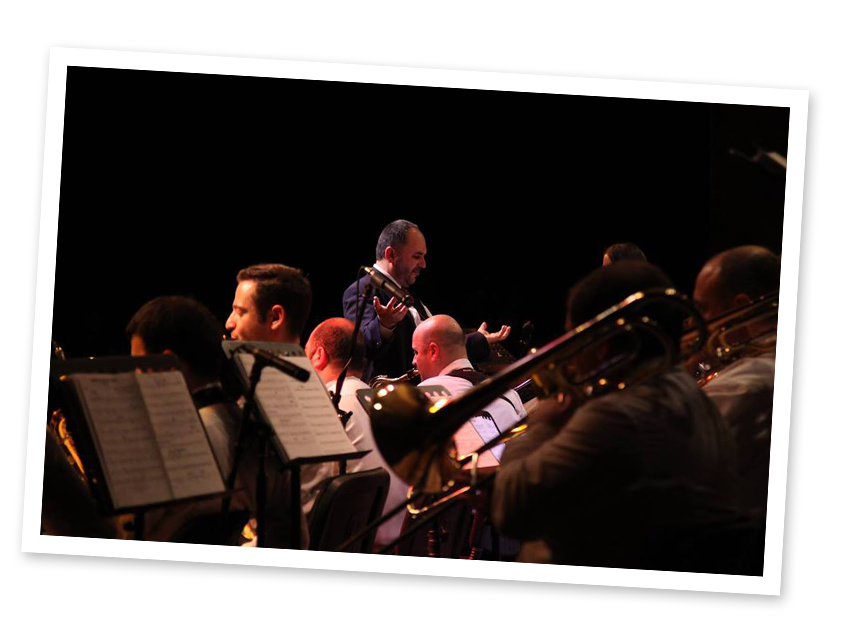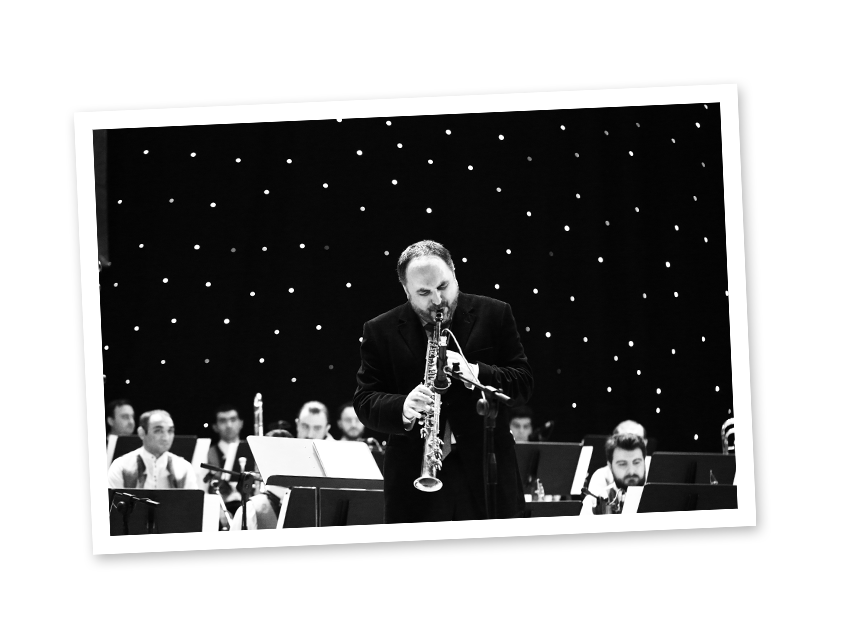 Armen Hyusnunts with his consistent work and experience, he is an invaluable contributor to Armenian jazz music. His unique skills as a musician, conductor, director, as well as his exceptional knowledge, professional background, and creative personality serve not only in the development of jazz music in Armenia but also in his innovative artistic expression on the international scenes.